The Youth GO Project
Due to increasing concerns raised by COVID-19, we are working as a team to re-envision our summer youth programming for 2020.
We know that no matter what, we will offer exciting, life-giving and faith sustaining programs, most likely, in a virtual format.
Daily check-ins, nightly vespers, at home mission projects, social gatherings and discernment workshops will be an integral part of the plan no matter what!
The GO Project youth programs are our longest-running programs! GO was started by a youth group and their desire to go on a mission trip while living into their own beliefs, values, and understanding of Christ in the world. They struggled to find a partner organization that shared those values while also being inclusive, and so, they created their own mission experience in Toronto. Since 2007, we have expanded our youth programs to seven cities and towns across the country and hope to continue to grow.
Our overnight programs run for 11 or 8-days. During the program, participants and staff reside at the host church, cook and eat together, serve with local environmental and social justice organizations, and discern how they are being called into action in their own lives and communities through discernment workshops. Youth programs provide the mission trip experience without having to leave Canada, and for a fraction of the cost.
Our hope is that each participant and staff have an 'aha-moment' while at GO, serving others, breaking bread together, and having fun with one another, and can leave the program with an action plan on how they can act and serve with their own gifts and skills in their communities. In the past, GO Project participants have created community gardens, meal programs, and resolved to offer their time and gifts in various other ways.
Many participants come as individuals, but return home upon the conclusion of the program having developed close friendships with the other members of the group. In order to maintain a leader : participant ratio which ensures the safety of everyone involved, we ask that groups of five or more youth be accompanied by a volunteer leader. Each program has three to four staff who facilitate the entire program, leaving youth ministers and group leaders the opportunity to share in the program with their youth.
Groups larger than five youth need to abide by the following standards for leadership:
1 leader for every 5 youth under the age of 16.
1 leader for every 7 over the age of 16
No two programs are exactly alike, ensuring that repeat participants always have a unique experience. That being said, there are commonalities. Below is a sample schedule of a youth program.
Please contact us with further questions about our youth programs and participating this summer!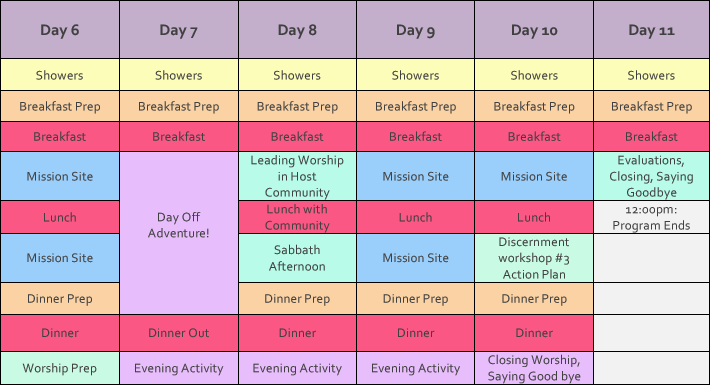 Financial Aid and Fundraising
We want every young person ages 13-19 interested in The GO Project to be able to attend. Three tiers are available for each program – subsidized, at cost, and pay it forward – so each family can select the payment which works for them. In the Resources drop-down menu is a page with further information about different pricing options, ideas for individual and group fundraisers, and bursaries available through the Vision Fund. Please contact us if money is a concern, and we will do everything we can to ensure your participation in The GO Project.
The GO Project wants everyone to be able to take part in a summer of mission and outreach. As a ministry of The United Church of Canada our prices are subsidized to allow all families to afford this experience This year we will be offering three pricing options, which families can voluntarily choose for their payment.
Register Now
Every family can choose the level of payment that is right for their situation. Tier A is the traditionally subsidized rate, Tier C is the rate that includes the full cost of the GO Project while Tier B is the mid-point. We recognize that Tier A may be still difficult for some families to cover, and so financial assistance opportunities are available.
It goes without saying that every youth will receive the same level of care and attention you expect when sending your youth on the GO Project, regardless of which tier of pricing your families chooses.